Order ImmersionRC LapRF Hardware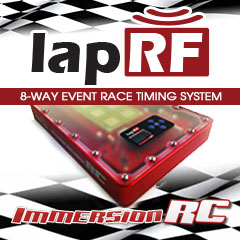 LiveTime is proud to be selected as the exclusive North American and South American distributor for ImmersionRC's LapRF 8-Way RF based scoring system!
We provide full support with all purchases made through us.
Purchases made through our website are completed through PayPal, but you do not need a PayPal account to checkout - you can choose to pay by credit card on the checkout page. If you would prefer to pay by credit card over the phone or mail in a check/money order, please call us and we will be glad to take your order in person.
E-mail us at support@livetimescoring.com or call us at (855) 232-6857.
Use PayPal credit to get your decoder box right away and pay it off over time - click the banner below.

ImmersionRC LapRF Personal Race Timing System

FREE SHIPPING IN USA ON THIS ITEM!

The LapRF is a professional race timing system for FPV quads using 5.8GHz video feeds.

The passing of a quad through the start/finish gate is precisely measured using the energy emitted by the 5.8GHz transmitter on the quad.

Custom fully-programmable timing receivers, coupled with ImmersionRC's timing antennas ensure that the performance of this system is on a different level than competing products. Video power levels from 10mW through 600mW supported.

Super-precise with one pilot, but also supporting multiple pilots for smaller events without purchasing multiple units (up to 8 with lower gate speeds as found in the micro-quad world).

Bluetooth connection to Android and iOS devices, with free applications downloadable from their respective app. stores.

Fully integrated with the industry standard LiveTime event management software.

Integrated 2600mAh Li-ion battery, with integrated USB charger gives 8 hour race time.

ImmersionRC LapRF 8-Way Event Race Timing System

The LapRF is an event race timing system for FPV quads using 5.8GHz video feeds.

The passing of a quad through the start/finish gate is precisely measured using the energy emitted by the 5.8GHz transmitter on the quad.

Custom fully-programmable timing receivers, coupled with ImmersionRC's timing antennas ensure that the performance of this system is on a different level than competing products. Video power levels from 10mW through 600mW supported.

Maximum precision for up to 8 pilots, but also supporting up to 16 pilots with lower resolution.

Ethernet connection to event management software.

Fully integrated with the industry standard LiveTime event management software.

3s-4s LiPo power, or equivalent DC power supply.

Includes power supply and ethernet coupler

NOW BACK IN STOCK.

LiveTime Ethernet Cable Coupler

Connects the short ethernet cable from the LapRF 8-Way system to a longer ethernet cable to connect to your computer/network

Meets all CAT5e, CAT6, and CAT7 specs

Not waterproof - for use in dry conditions only

LiveTime Waterproof Ethernet Cable Coupler

Connects the short ethernet cable from the LapRF 8-Way system to a longer ethernet cable to connect to your computer/network

Meets all CAT5e, and CAT6

Waterproof - ideal for use in rainy or wet grass conditions

LiveTime Ethernet Cable - CAT6 (100 feet)

CAT6 rating

LiveTime POE Injector/Splitter for LapRF 8-Way System

Powers your LapRF 8-Way system with power over ethernet.

Simplifies cable runs by not requiring a separate power cable to be run to your LapRF system.

Woks up to 250 feet on CAT5e or CAT6 cable.

Works on 120v or 240v sources (world wide)

LiveTime XT60 Male to Barrel Male Adapter

CAT6 rating